Prancing around on the 4th December on Baydon village green
Have you HERD what's going on ? Village green, Sunday 4th December, all day. #operationvixen - bring some DOE for an amazing Festive charity event ! Reveal the full details of this cryptic clue by clicking here !
Baydon Village Christmas Tree - Now up on the village green
Well done to the group of volunteers who came along and put up the village Christmas tree on the Green, opposite the pub. Note:- the date of the annual carols around the tree is from 6pm on Saturday 17th December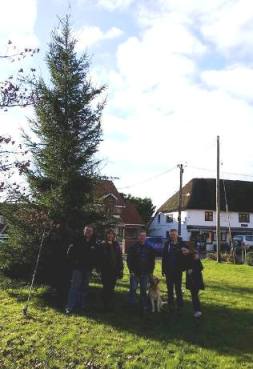 (Click on photo to enlarge slightly)
Baydon Parish Council Meeting - News report by Barbara Furber
Please click here to see Barbara's news report on the recent Parish Council meeting that took place on Monday 28th November 2016 in the BYPA Hall
Baydon Ladies Night - Friday 9th December event item updated
Please see the Baydon Ladies Night (Christmas Special!) event item on the right taking place on Friday 9th December for a recent update to include full details and booking form
Wiltshire Police - Message regarding recent local Baydon crime
We are investigating the forced entry to a barn at Baydon which occurred overnight to Friday 18th November. Unknown suspect(s) have forced a padlock to access the building and conducted a search. Nothing believed stolen. Please check security to outbuildings, consider beam alarms or other systems which activate alerts to your mobile phone to allow for an immediate Police response to such incidents. Please report via 101 any information concerning suspicious activity; persons, vehicles seen in the Baydon area at the above time. Thank you - Teresa Herbert (Police, Constable, Wiltshire East Community Policing Team)
Village Litter Pick - Saturday 19th November, news report by Barbara Furber
14 villagers (including 4 young children) met on the Green on Saturday morning to get "geared up" for the Litter Pick. With high viz jackets, picker poles and black bags they set off in various directions to clear Baydon of litter. Part of a car's cooling system, a large wheel trim and some empty paint tins were some of the more unusual items found amongst the cans, cardboard containers, plastic bottles and other general litter. Numerous sacks of rubbish were collected and were taken to the tip later in the day, leaving the village looking lovely and tidy afterwards. Keep a look out for the date of the next Village Litter Pick in the spring and please do come along and help for an hour or so if you can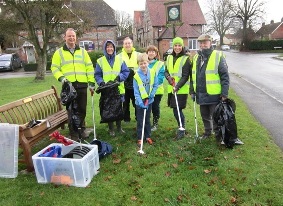 Anyone for table tennis ?
If you are interested in playing table tennis in the BYPA Hall then please call me, Bernie Gribble on 01672 540461 or email me at berniegribble@yahoo.co.uk Thank you, Bernie
Aldbourne Band - Christmas season of concerts begins
After their recent performance in the Brass Band National Finals where they were delighted to be placed 9th out of 20 bands the Aldbourne Band are currently ranked 19th in the world. Under the musical direction of David Johnson the band now approaches its Christmas season, click here for full details

Baydon Church - History and Archive section updated
The Church History and Archive Page has been updated with three items kindly contributed by Mike Ball. These include Russley Park, Wiltshire Horses Remount Depot, Charles Tuck from Baydon Hill, and Baydon Hole Refugee Camp. Please click here to see the articles
Baydon Parish Council - Current parish councillor vacancies
Baydon Parish Council needs more parish councillor volunteers to come forward so that it can work effectively and represent a wider range of views from the village. Can you help ? Please click here for full details
Baydon Parish Council - Latest update on village traffic calming measures
Please click here to see the latest Parish Council update on the continued work to improve the road safety in our village and reduce speeding traffic
Baydon enjoys great bonfire and fireworks event - Baydon Fireworks Team
On behalf of the Fireworks Team we would like to thank you for your support on bonfire night and hope you enjoyed our display this year. The attendance goes up each year and this year was another record with 948 people through the gate. We would like to say a special thank you to all the stewards, the Parish Council, Debbie at the shop and Julie at the Red Lion for hosting our collection buckets, to Jonathan Smith for allowing us to use the field, and to Baydon Brownies for supplying you with refreshments. Thank you to everyone who kindly contributed to this years fireworks and because of your generosity we have a total of £711.56, €2 & 25 US cents to go towards next years fireworks. There will be a further report in the next Scene in Baydon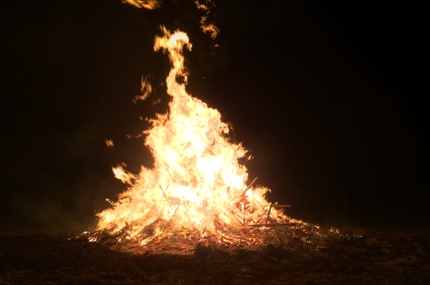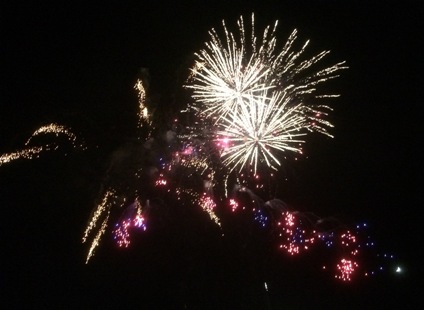 ( Click on the photos to enlarge )
Missing Tabby cat - £500 reward offered for his safe return
Ali and Rob have lost their much loved Tabby cat. Lexxi has been missing since 12th September. He is male, neutered and chipped. We miss him very much and would love to have him home where he belongs with his sister and us. If you have any news please can you call Ali and Rob on 07903 830259. Many thanks. £500 reward for safe return. Please click here for full details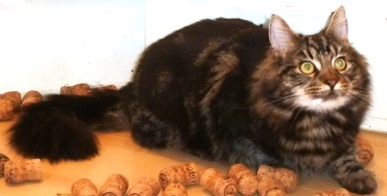 (Click on photo to enlarge)
Latest Marlborough edition of Our Community Matters issued
The latest edition of the local Our Community Matters publication issued by Wiltshire Council has a number of news items relevant to us here in Baydon. Please see the Wiltshire Council Page for a regularly updated copy of the publication
See the News & Events page for a list of older news items
Events remaining for the week ending Sunday 4th December
Sunday - #operationvixen on the Village Green today from 9am to 3pm. Hand made items acquired for a charity donation. Click here for full details
Sunday - Team Communion at Holy Cross, Ramsbury from 10am
Sunday - Christmas Quiz Night in the Red Lion Pub. 7pm start, raising money for the Dogs Trust
Events for the week commencing Monday 5th December
Tuesday - Kerbside refuse collection today, being black general waste and green garden waste wheelie bin collections for those opting in for the paid for service. Click here for a full Wiltshire Council collection calendar
Wednesday - Baydon Bikers Club meeting this evening at the Red Lion Pub, being the first Wednesday of the month
Thursday - Mobile library visits Baydon today, from 10.50am to 11.40am outside the school
Thursday - Baydon informal cycle club ride, from 6.30pm outside the Red Lion Pub
Thursday - Baydon church Homegroup at 7.30pm. Click here for full details. Note:- This is the last of the current series of Baydon church Homegroup sessions
Thursday - Baydon Social Group event today, being Skittles & Supper. See related section of the Clubs Page for more details
Thursday to Saturday - A.L.E.C. presents Mother Goose, a traditional family pantomime with performances at 7.30pm Thursday, 7.30pm Friday and 2pm & 7.30pm on Saturday. Tickets on sale from Aldbourne Post Office. Click here for details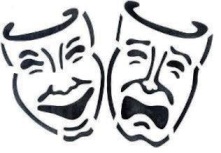 Friday - Baydon Ladies Night at the Red Lion Pub, from 8pm. Three course Christmas dinner and gift for £25. Please click here for full details
Sunday - Patronal & Christingle Baydon church service today, from 9.30am
Events for the week commencing Monday 12th December
Tuesday - kerbside refuse collection today, being black recycling boxes for paper, glass jars and bottles, cans, empty aerosols, clean aluminium foil, and metal jar lids plus the cardboard / plastic bottles blue lid wheelie bins. Click here for a full Wiltshire Council collection calendar
Wednesday - New A drop in Bellyfit class this evening at 8pm in the BYPA Hall on Manor Lane. £6 for the session, payable on the night. Welcome notice if you are able to come along but no formal booking required. Charlotte Booth charlotte_booth@yahoo.com
Thursday - Baydon informal cycle club ride, from 6.30pm outside the Red Lion Pub
Saturday - Baydon's annual Christmas carols around the village tree on the Green, from 6pm. Further details to follow once received
Sunday - Baydon Carol Service today from 4pm
Events for the week commencing Monday 19th December
Monday - New Christmas Activity Session at St Michael's Church from 10am to 12pm. All welcome. Click here for full details
Tuesday - Kerbside refuse collection today, being black general waste and green garden waste wheelie bin collections for those opting in for the paid for service. Click here for a full Wiltshire Council collection calendar
Thursday - Baydon informal cycle club ride, from 6.30pm outside the Red Lion Pub
Saturday - Christmas Eve, Open Mic Night in the Red Lion Pub. From 8.30pm
Saturday - Candlelit Communion at Baydon church from 9pm
Sunday - Family Communion and Crib service today at Baydon church, from 9.30am
Events for the week commencing Monday 26th December
Wednesday - Change of day for this weeks recycling refuse collection, being a Wednesday not Tuesday
Thursday - Baydon informal cycle club ride, from 6.30pm outside the Red Lion Pub
Sunday - Awaiting local church service details
Events for the week commencing Monday 2nd January
Tuesday - Kerbside refuse collection today, being just black general waste wheelie bins as no green garden waste wheelie bin collection this week. Click here for a full Wiltshire Council collection calendar
Wednesday - Baydon Bikers Club meeting this evening at the Red Lion Pub, being the first Wednesday of the month
Thursday - Mobile library visits Baydon today, from 10.50am to 11.40am outside the school
Thursday - Baydon informal cycle club ride, from 6.30pm outside the Red Lion Pub
Sunday - Awaiting local church service details
Events for the week commencing Monday 9th January
Monday - Baydon Parish Council meeting today, from 8pm in the BYPA Hall on Manor Lane. Agenda to appear here nearer the time
Tuesday - kerbside refuse collection today, being black recycling boxes for paper, glass jars and bottles, cans, empty aerosols, clean aluminium foil, and metal jar lids plus the cardboard / plastic bottles blue lid wheelie bins. Click here for a full Wiltshire Council collection calendar
Thursday - Baydon informal cycle club ride, from 6.30pm outside the Red Lion Pub
Sunday - Awaiting local church service details
See the News & Events page for a list of subsequent events