Baydon Parish Council Meeting - News report by Barbara Furber
Please click here to see Barbara's news report on the recent extra Parish Council meeting that took place on Monday 20th March 2017 in the BYPA Hall, mainly to discuss traffic calming measures in the village
Baydon Annual Local Church Meeting - Wednesday 29th March 2017 / Repairs
The Baydon Annual Local Church Meeting takes place on Wednesday 29th March 2017 at 7.30pm in Baydon St Nicholas Church. This is our annual meeting where we elect both Churchwardens and Local Church Meeting members for the following year. Everyone is very welcome to attend. Click on the following to see related documents :- Local parish meeting and Church meeting notice
Also see the Church Page for updated information regarding the much needed church repairs and related funds to raise
Fun Auction on Friday 31st March to raise much needed church funds Updated
There will be a fun auction in the School Hall from 7.30pm on Friday 31st March to help raise much needed funds for the upkeep of the church. Please do consider donating unwanted gifts, tickets for events, your skills, promises, etc to help make this event as successful as possible. Please click here for full details.
Updated Promises so far include baby sitting, gardening, cake making, ironing, logs, luxury day out for 2 in Oxford with transport, 2 tickets for Mamma Mia, 2 club enclosure tickets for The Investec Oaks or The Investec Derby in June, tickets for family days out, Winter 4 ball golf at Bowood, champagne, a week bed and (self service) breakfast in Cornwall for 2, drone photo of your home.... and lots lots more ! It is not too late to donate, so if you have anything else you would like to offer then please email Helen Chambers at rannochpnc@outlook.com
Do you fancy becoming a Baydon Parish Councillor ?
Do you fancy becoming a Baydon Parish Councillor, and helping the local village community ? If yes, then nominate yourself for the forthcoming May local elections. Please feel to contact Charlotte Booth (Baydon Parish Clerk) for more information. Also click here for further details and click here for Nomination information
Wiltshire Police prioritise tackling theft from motor vehicles
Since the turn of the year there have been twelve reports of thefts from motor vehicles, predominantly around our areaís beauty spots. With the warmer weather this number could increase significantly. This has now been made a new sector wide priority. Wiltshire Police will be on patrol and also seek to educate motorists via leaflet drops and face to face discussions. Click here to see the related publicity poster
Baydon Parish Council - Minutes / Extraordinary meeting Agenda
Please click here to see a copy of the draft Minutes for the recent Parish Council Meeting that took place on 27th February. There was also an extraordinary meeting on Monday 20th March, mainly to discuss the latest traffic calming position. Click here to see a copy of the meeting Agenda, with the draft Minutes appearing here once issued
Baydon Church Secretary Required
The current Local Church Committee Secretary is standing down at the end of March and we are looking for a replacement to fill this volunteer role. The job mainly involves the preparation of meeting agenda and minutes, together with a small amount of general admin. This is an ideal job for someone who wants to be more involved in Baydon but at the same time is not a large job (averaging about 5hrs a month). The current Secretary (Rowan Cockcroft) would be happy to talk to anyone who is interested in finding out more about what is actually involved. Contact details = Church@baydon.org
Recently formed Baydon Table Tennis Club meets Friday evenings in BYPA Hall
We now have a new club in the village namely the Baydon Table Tennis Club which is proving to be very successful. Since its inception in January 2017 over 15 residents from the village have come to play the game which takes place in the BYPA Hall. Table tennis can be a very sociable game to play with most meetings often lively and noisy. The sport can be played as energetically as you wish and therefore appeals to all ages. The Club welcomes new members (from complete novice to expert). Please see the Clubs Page for more details and contact information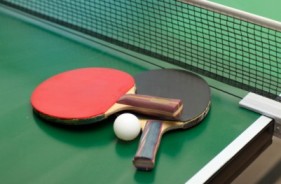 Road Calming in Manor Lane - News item from Tom McGowran
I have lived in Manor Lane for nearly forty years and in that time have experienced a growth both in the number of vehicles using the lane and the speed they are travelling at. I have noted that since the chicanes were installed on Ermin Street there has been an increase in the through traffic east to west. Many of these drivers are travelling at an inappropriate speed in the lane, but not necessarily breaking the speed limit of 30mph. Click here to see Tom's full news report
Police and Crime Plan for Wiltshire and Swindon 2017 Ė 2021 issued
The plan sets the direction for our local policing and community safety for the next five years, and sets out the main priorities for Wiltshire Police. It also shows information about the typical daily demand for our local police services and the continuing demand to keep people safe from a range of threats. Click here to see a copy of the plan and full details
Wiltshire Police - Community Policing report issued (March 2017)
Wiltshire's Community Policing Team (CPT) have issued their March report to Baydon Parish Council, please click here to see a copy
Baydon Parish Council Meeting - News report by Barbara Furber
Please click here to see Barbara's news report on the recent Parish Council meeting that took place on Monday 27th February 2017 in the BYPA Hall
'Save Baydon Lion' project to save Red Lion Pub from closure / redevelopment
The Save Baydon Lion Team have been working hard to help the village acquire the Red Lion and turn it into a Community Pub/Asset for the benefit of everyone. In just a few weeks they have agreed the 'Constitution' which has enabled them to open a Treasurer's Account with Santander. This bank account allows them to collect funds so that they can carry out initial marketing activities, do a feasibility study and prepare a business plan. The www.savebaydonlion.uk website is now live. Please have a look and if there is any specific information you would like to see on the website let them know. They are planning a leaflet drop to every household in the village to make sure that everyone is aware that we are in danger of losing the Red Lion Pub and that they are working to prevent this from happening. If you have any queries, or would like more information please do not hesitate to email the project team at :-

Church Page - Updated to show all forthcoming local church services
The Church Page has been updated to show all the local church services through to the end of April and so including the Easter period, and shown within the forthcoming events down the right side of this page
Parish Council Meeting to discuss idea of a Community Pub
Please click here to see Barbara Furber's news report on the recent extraordinary Parish Council meeting that took place on Wednesday 1st February to discuss the options relating to the possible community purchase of the Red Lion Pub
February 2017 edition of the Scene in Baydon now available online
Please click here or on the image below to see the latest edition of the Scene in Baydon. Note previous versions are available by clicking here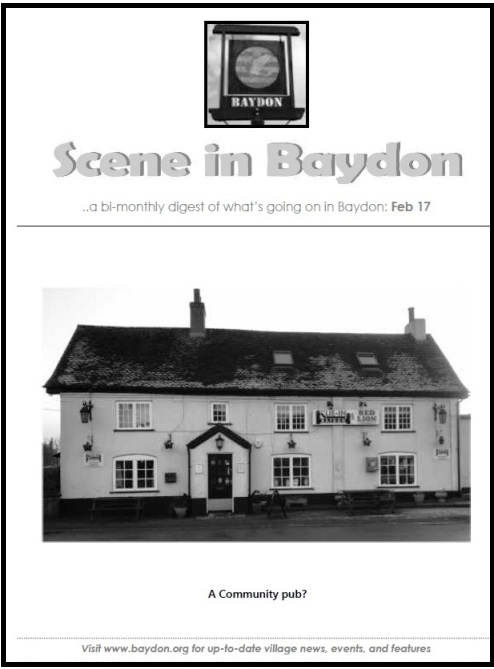 Details of local Baydon footpaths and bridleways updated
In addition to the online map of local footpaths and rights of way that is on the Links section of this website and can be accessed by clicking here, the Parish Council have issued an updated list of the details of our local paths and bridleways which can be seen by clicking here
Missing Tabby cat - £500 reward offered for his safe return
Ali and Rob have lost their much loved Tabby cat. Lexxi has been missing since 12th September. He is male, neutered and chipped. We miss him very much and would love to have him home where he belongs with his sister and us. If you have any news please can you call Ali and Rob on 07903 830259. Many thanks. £500 reward for safe return. Please click here for full details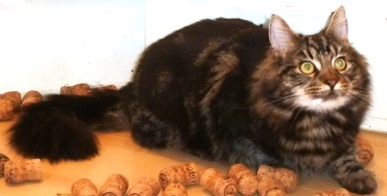 (Click on photo to enlarge)
See the News & Events page for a list of older news items
†
Events remaining for the week ending Sunday 26th March
Saturday - We are having a Churchyard and Church Spring Clean starting at 10am. Everyone is very welcome and it would be great to see you for as little or long as you can spare
Saturday - Little Crickets Pre-school family fun day, with everyone very welcome. 11am to 2.30pm at Baydon school. Click here for full details
Saturday - Wiltshire Neighbourhood Watch community policing Open Forum starting at 11am at New College, Swindon. Click here for details
Sunday - Mothering Sunday Holy Communion service at Baydon church from 9.30am
Events for the week commencing Monday 27th March
Tuesday - Kerbside refuse collection today, being black general waste and green garden waste wheelie bin collections for those opting in for the paid for service. Click here for a full Wiltshire Council collection calendar
Wednesday - Baydon Annual Local Church Meeting, from 7.30pm in Baydon church. See related news item on the left
Thursday - Mobile library visits Baydon today, from 10.50am to 11.40am outside the school
Thursday - Baydon informal cycle club ride, from 6.30pm outside the Red Lion Pub
Friday - a Fun Auction is taking place this evening at Baydon School Hall starting at 7.30pm. Viewing from 7pm. Admission is £3 which includes a free glass of wine/juice. Click here for full details. Also see related news item on the left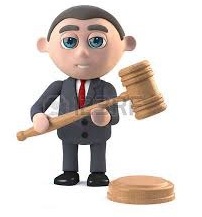 Sunday - Team Communion church service at Froxfield from 10am
Events for the week commencing Monday 3rd April
Monday - Baydon Parish Council meeting this evening from 8pm in the BYPA Hall. An Agenda will appear here nearer the time
Tuesday - kerbside refuse collection today, being black recycling boxes for paper, glass jars and bottles, cans, empty aerosols, clean aluminium foil, and metal jar lids plus the cardboard / plastic bottles blue lid wheelie bins. Click here for a full Wiltshire Council collection calendar
Wednesday - Baydon Bikers Club meeting this evening at the Red Lion Pub, being the first Wednesday of the month
Thursday - Baydon informal cycle club ride, from 6.30pm outside the Red Lion Pub
Sunday - Palm Sunday - Morning Prayer (CW)church service in Baydon from 9.30am
Events for the week commencing Monday 10th April
Monday - All are welcome to help build an Easter Garden and join in with crafts, songs and activities at St Michael's Church, Aldbourne from 10am to 12 noon. A session for children with their families and carers. Bring a picnic lunch for afterwards. Click here for full details
Tuesday - Kerbside refuse collection today, being black general waste and green garden waste wheelie bin collections for those opting in for the paid for service. Click here for a full Wiltshire Council collection calendar
Thursday - Baydon informal cycle club ride, from 6.30pm outside the Red Lion Pub
Thursday - Maundy Thursday, Last Supper Meal & Communion at St Michaelís, Aldbourne from 7pm
Friday - Good Friday, Readings and Reflections at Baydon church from 10am
Sunday - Easter Day, Family Communion service at Baydon church from 9.30am
Events for the week commencing Monday 17th April
Tuesday - kerbside refuse collection today, being black recycling boxes for paper, glass jars and bottles, cans, empty aerosols, clean aluminium foil, and metal jar lids plus the cardboard / plastic bottles blue lid wheelie bins. Click here for a full Wiltshire Council collection calendar
Thursday - Baydon informal cycle club ride, from 6.30pm outside the Red Lion Pub
Sunday - Holy Communion church service at Baydon church from 9.30am
Events for the week commencing Monday 24th April
Tuesday - Kerbside refuse collection today, being black general waste and green garden waste wheelie bin collections for those opting in for the paid for service. Click here for a full Wiltshire Council collection calendar
Thursday - Mobile library visits Baydon today, from 10.50am to 11.40am outside the school
Thursday - Baydon informal cycle club ride, from 6.30pm outside the Red Lion Pub
Sunday - Local church services today include the following:- Matins at Chilton Foliat (11am), Holy Communion at St Michaelís, Aldbourne (11am), and then Team Coral Evensong at Ramsbury (6pm)
Events for the week commencing Monday 1st May
Tuesday - kerbside refuse collection today, being black recycling boxes for paper, glass jars and bottles, cans, empty aerosols, clean aluminium foil, and metal jar lids plus the cardboard / plastic bottles blue lid wheelie bins. Click here for a full Wiltshire Council collection calendar
Thursday - Baydon informal cycle club ride, from 6.30pm outside the Red Lion Pub
Sunday - awaiting details of today's local church service
Events for the week commencing Monday 8th May
Tuesday - Kerbside refuse collection today, being black general waste and green garden waste wheelie bin collections for those opting in for the paid for service. Click here for a full Wiltshire Council collection calendar
Thursday - Baydon informal cycle club ride, from 6.30pm outside the Red Lion Pub
Friday - Baydon Parish Assembly annual meeting taking place this evening from 8pm - Final details to be announced
Sunday - awaiting details of today's local church service
Events for the week commencing Monday 15th May
Monday - Baydon Parish Council meeting this evening from 8pm in the BYPA Hall, being the AGM. An Agenda will appear here nearer the time
Tuesday - kerbside refuse collection today, being black recycling boxes for paper, glass jars and bottles, cans, empty aerosols, clean aluminium foil, and metal jar lids plus the cardboard / plastic bottles blue lid wheelie bins. Click here for a full Wiltshire Council collection calendar
Thursday - Baydon informal cycle club ride, from 6.30pm outside the Red Lion Pub
Sunday - awaiting details of today's local church service
Events for the week commencing Monday 22nd May
Tuesday - Kerbside refuse collection today, being black general waste and green garden waste wheelie bin collections for those opting in for the paid for service. Click here for a full Wiltshire Council collection calendar
Thursday - Mobile library visits Baydon today, from 10.50am to 11.40am outside the school
Thursday - Baydon informal cycle club ride, from 6.30pm outside the Red Lion Pub
Sunday - awaiting details of today's local church service
Events for the week commencing Monday 29th May
Tuesday - kerbside refuse collection today, being black recycling boxes for paper, glass jars and bottles, cans, empty aerosols, clean aluminium foil, and metal jar lids plus the cardboard / plastic bottles blue lid wheelie bins. Click here for a full Wiltshire Council collection calendar
Thursday - Baydon informal cycle club ride, from 6.30pm outside the Red Lion Pub
Sunday - awaiting details of today's local church service
See the News & Events page for a list of subsequent events